Stephen and Wendy Walton founders of
The Positive Parenting Centre
---
Welcome to our site

 I am Stephen Walton and beside me is Wendy my life partner and wonderful wife for 48 years.  We reside in the Niagara Region in the beautiful South Eastern province of Ontario, Canada.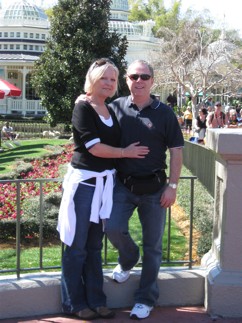 We have two wonderful daughters who have bestowed upon us, two outstanding son-in-laws and have also blessed us with four magnificent grandchildren, including fraternal twins.
I have recently made one of the most exciting decisions of my life... to retire early from my job to enjoy precious time with my grandchildren, and pursue other passionate interests in life, one being the publisher of this website.

The most important piece of wisdom acquired in my life, is that life itself is much too short, we must live every moment of each and every day to its fullest.
In the words of Dale Carnegie, "All of us tend to put off living. We are all dreaming of some magical rose garden over the horizon instead of enjoying the roses that are blooming outside our windows today."
Our "family" is our "Rose Garden"…… What is yours?
---
Our Purpose
We are totally "focused and committed" on assisting parents in raising positive well rounded children of great character, and in living a happy, fulfilling, and successful family life.
Our Personal Goal
To make a difference in the lives of others, by articulating the very essence of time and encourage young parents to: "Slow Down… Stop and Smell the Roses".
Don't hurry your children through life. Relax, take it slow, and enjoy every precious moment.
"When we choose not to focus on what is missing from our lives,
but are grateful for the abundance that's present...
we experience heaven on earth"
- Sarah Breathnach -
Our Personal Mission Statement
We will strive to focus on "Positive Parenting Strategies," "Family Unity" and "Family Fun Activities" tailored to encourage our visitors to live their family lives to their fullest.
We will endeavor to cultivate a positive, exciting and interactive environment that will enrich the lives of all our visitors.


" The true meaning of life
is to plant trees under whose shade you do not expect to sit"
- Nelson Henderson -

We hope you enjoy your journey,

Stephen & Wendy

Return to:
---
If  you find our site interesting and informative, we would love for you to

 "Like or Share" us on Facebook

---
Visit our Facebook page on the link below

---
---
---
   Subscribe to our
Periodic Newsletter