Our List of Virtues
and their Definitions
---
By Stephen Walton © 2012

This list of virtues will help define core values important to you.

We have focused on those most commonly recognized and applied.

The dictionary explains the definition of virtue as:


A behaviour showing high moral standards.
A quality considered morally good or desirable in a person.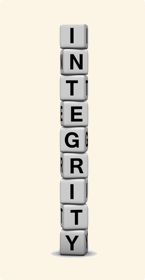 The foundation of your core value system is built around specific virtues you personally deem morally important to you and your family.

When we consider a person to be of moral excellence, we generally consider them a person of great character made up of virtues we admire and strive to acquire.

They are extremely honest, kind, patient, compassionate, empathetic and generous. They exercise fairness and respect for others, can be trusted in confidence and are extremely reliable.

They are said to posses one of the most important virtues of all, "Integrity."


How Do You Acquire Such Integrity?

Integrity is acquired by:

Firmly adhering to strong moral principles, consciously and consistently applying the virtues, and modeling their values daily.
Applied with genuine sincerity and unwavering commitment they become habits.

These habits, enriched through the virtue of love are the very essence that make up the content of good character.
The most important responsibility you have, is to ingrain the virtues in your children and articulate the importance of adhering to sound principles.

---
The Oak Tree as Our "Virtue Metaphor"
The Oak Tree with its deep roots that mirror its branches, stretching far below ground as the branches do above;

……So too, should the virtues dear to you, be deeply rooted in your core value system.

*Note
We use this symbol metaphorically for a visual perspective only, not to surrender any religious worship and belief of the virtues.


A Symbol of Wisdom
The Greeks and Romans have long signified the oak tree as a symbol of strength and stability.

It is seen as a living legend and is honoured for its endurance. It is said to represent all that is true, wholesome and stable in all its noble presence.

The ancient Celtics considered it a cosmic storehouse of wisdom with attributes of loyalty and family. It's regarded as the most powerful and sacred of all trees.

It is believed to hold the true alignment of balance, purpose and strength while its massive size and life longevity of over 200 years verify its life-affirming symbol.


Our Virtues Tree
Our List of Virtues and their Meanings
Explore the following virtues to discover their meaning and ideas for applying them

Not all links are live...please have patience as we upload our articles

---
Patience

Trust

Courage

Responsibility

Perseverance


Accountability

Commitment

Honesty

Self-Discipline

Excellence

---
Return To: "Defining Principles"..from: "List Of Virtues"


For our Oak Tree's symbol of wisdom reference, go to:


If  you find our site interesting and informative, we would love for you to

 "Like or Share" us on Facebook

---
Visit our Facebook page on the link below

---
---
---
   Subscribe to our
Periodic Newsletter